Latest Updates On Yemen, 25 May 2023
Thursday 25 May 2023 - 16:03
https://english.iswnews.com/?p=28440
The Yemeni People residing across areas controlled by the Ansar Allah resistance movement held a mass rally dubbed "Cry in Face of Arrogant" in order to mark the anniversary of the martyrdom of Hussein Badreddin al-Houthi, former member of the Yemeni parliament for the Al-Haqq Party between 1993 and 1997, who was martyred in Saada Governorate on on September 10, 2004.
1- Shabwah Governorate:
On May 23, seven militants from the Shabwah Defense Forces were injured as a result of a bomb blast on the route of a vehicle carrying Shabwah Defense Forces in the Al-Rawda district. The raid was perhaps carried out by militants affiliated to the Al-Islah Party or the terrorist group of Al-Qaeda. (Interactive map)
2- Al-Hudaydah Governorate:
The Saudi-led coalition forces embarked on violating the ongoing ceasefire in Yemen some 134 times in the Al-Hudaydah Governorate over the past 48 hours.
3- On May 24, the Yemeni people, who are residing across areas controlled by Ansar Allah resistance movement, held a mass rally called "Cry in Face of Arrogant" with the aim of marking the anniversary of the martyrdom of Hussein Badreddin al-Houthi, also known as the eponymous founder of Yemen's Houthi movement.
In the demonstration, the Yemeni people described the United States' slogans about democracy and freedom as sheer lies and they named the US as the main aggressor behind the war on Yemen. The Yemeni people also slammed the United States' moves in obstructing and hindering the implementation of peace process in the wart-torn Arab country.
4- On May 23, the Council of the Presidency of the resigned Yemeni government headed by Rashad Al-Alimi held talks with Minister of Defense of Saudi Arabia Khalid bin Salman Al Saud during a visit to the Saudi kingdom's capital city Riyadh. Prominent Yemeni figures such as Aidarus al-Zoubaidi, Tareq Saleh, Abdulrahman Al-Muharrami, Sultan Al-Arada as well as other members of the Council of the Presidency of the resigned Yemeni government took part in the meeting.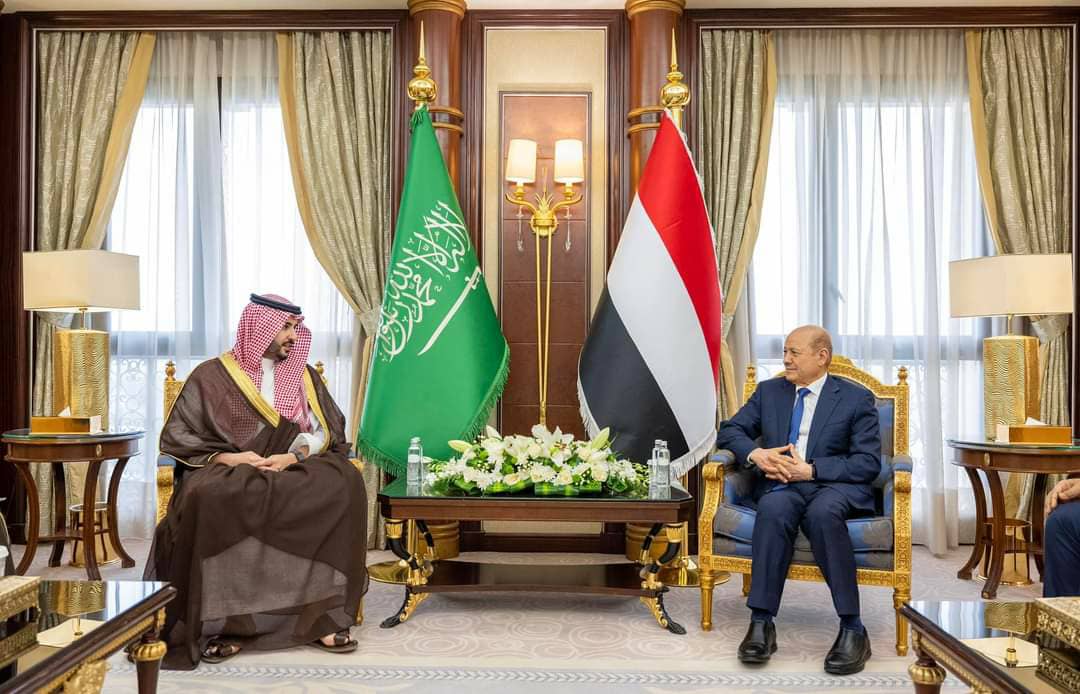 5- On May 22, Senior Advisor to Iran's Foreign Minister Ali Asghar Khaji called for the removal of obstacles to the transfer of humanitarian aid to the war-stricken Arab nation in a video call with UN Special Envoy to Yemen Hans Grundberg. The two sides also discussed the peace process in Yemen during the video conversation.
6- On May 17, British Ambassador to Yemen Richard Oppenheim in an interview with the Saudi newspaper Al-Sharq Al-Awsat said that my country supports the partition of Yemen. Any reconciliation in Yemen should also contain the issue of the southern region of the country and refer to the formation of a new arrangement in accordance with the resolution confirmed by the United Nations Security Council.