Ansar Allah's Grand Parade On Anniversary Of 'September 21 Revolution' In Yemen (Images)
Sunday 24 September 2023 - 09:58
https://english.iswnews.com/?p=30418
Yemeni armed forces, comprising ground, air, naval, missile and drone units, held a large and unique military parade on the occasion of the anniversary of the Yemeni popular revolution, which took place on September 21, 2014, at the presence of Yemeni political and military officials in Al-Sabeen Square in the capital city Sana'a.
The military exercise began following the arrival of President of the Supreme Political Council of Yemen Mahdi al-Mashat into Al-Sabeen Square as well as the performance of revolutionary anthems and programs in honor of the Holy Quran. In addition to its previous weaponries and combat equipment, the Yemeni army unveiled new equipment such as Hani armored vehicles, Nadir boats, ground-to-sea Saeqa missiles, Sejjil cruise missiles with a range of 180 kilometers, Aqil ballistic missiles, Tufan ballistic missile system and various radars, and several new air defense missiles.
For the first time since the start of Saudi-led coalition war on Yemen, one of the F-5 fighters performed several maneuvers in this parade alongside Mi-17 helicopters of the Yemeni Air Force.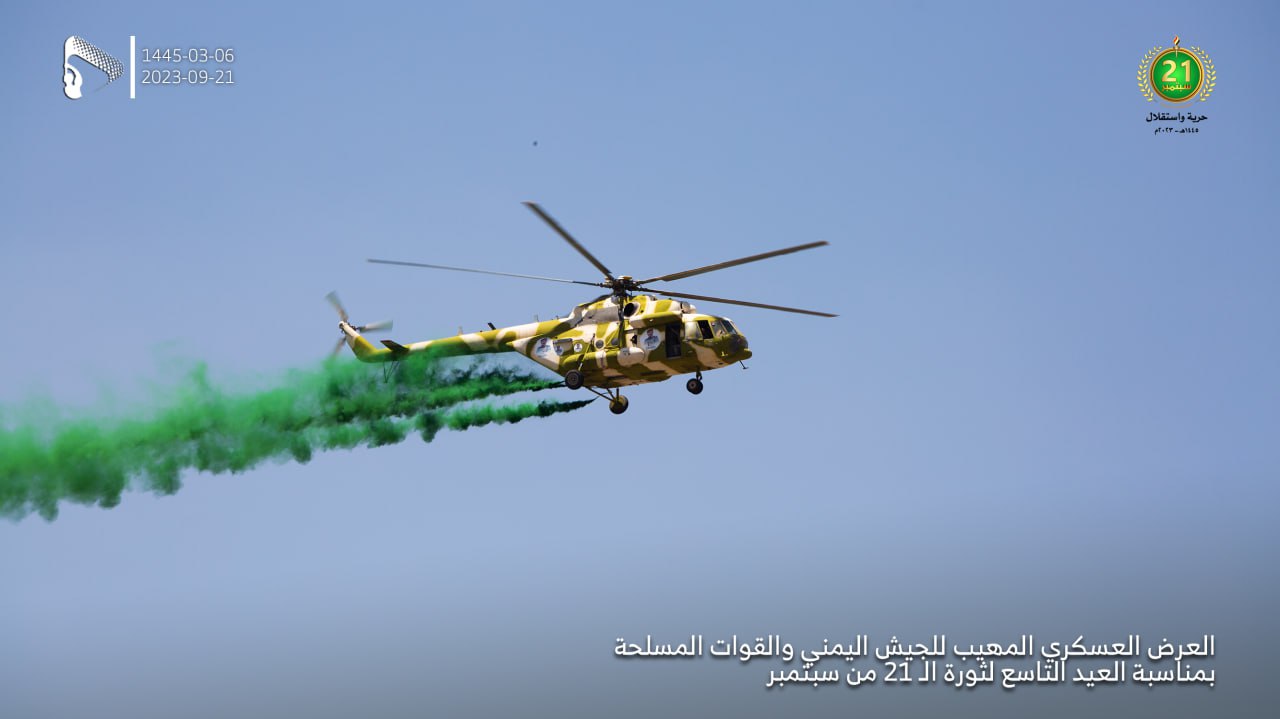 The extensive collections of missiles as well as reconnaissance and assault drones were another difference in this parade compared to past military maneuvers and parades. The Ansar Allah movement displayed drones such as Waeid 1 and 2 (Shahed 136), Mersad 2, Khatef, and Saqar 2 (known as 358) air defense missile, Qasem missile, Badr 4 and so on in large numbers during this parade.
The grand display of Yemen's stunning army weapons in this parade once again showed that no military operation or invasion by the Saudi-led coalition or even the US-led coalition can bring the people of Yemen to their knees. The all-out air and sea blockade will not prevent this country's military advances because Iran and the Axis of Resistance are supporting the Yemeni people.
The people of Yemen were outraged by resigned president Abd Rab Mansour Hadi's betrayal and his government's collusion with certain Arab countries, especially Saudi Arabia, in 2014. The Yemeni people held extensive rallies against him in various cities of Yemen. With Ansar Allah's entry into Sana'a city on September 21, 2014, Hadi resigned from the presidency of Yemen and his government agents were dismissed by the Yemeni parliament. After these developments and Ansar Allah's success in taking control of the Yemeni government, Saudi Arabia and the United Arab Emirates (UAE) formed a coalition against the people of Yemen and Ansar Allah in support of Mansour Hadi; so, his allies attacked all over Yemen.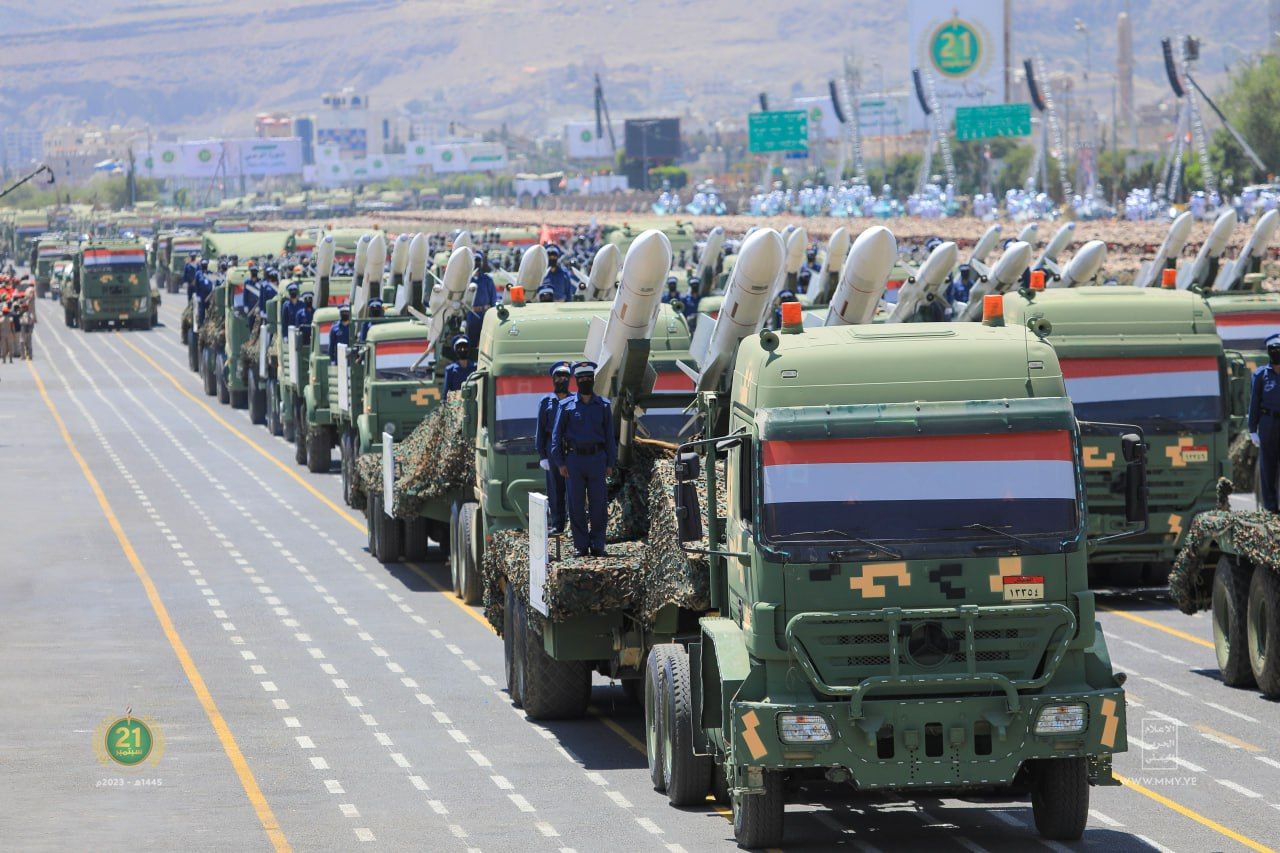 One interesting point about this year's parade was the large presence of Hani armored vehicles which are actually updated versions of Al-Shabal 2 light vehicles belonging to Saudi-led coalition that Ansar Allah had seized in various battles. According to released images from the parade, Yemen's army has managed to update 54 units of these vehicles.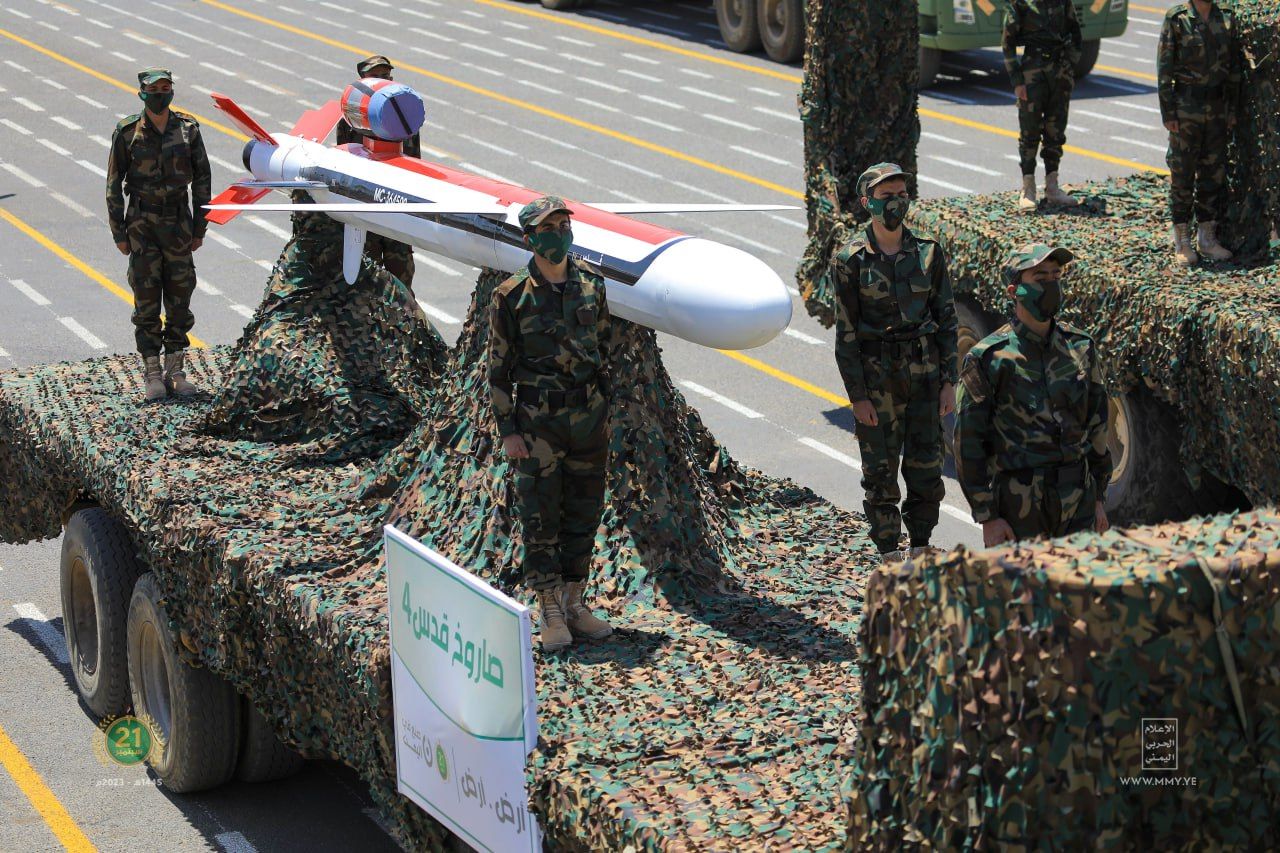 In this parade, various ballistic missiles were displayed by Yemen's armed forces. These missiles were displayed in large numbers indicating functionality and high storage number for these missiles in Yemen's armed forces organization. These ballistic missiles are very similar to some Iranian samples. For example, Karrar missile is similar to Fateh-110 missile; Aqil missile is alike Qiam missile; Tufan missile is similar to Qadr missile. Of course, differences can be seen as well and it cannot be said with 100 percent certainty that all these weapons and equipment have been directly transferred to Yemen.
Among other equipment seen in the parade is an anti-aircraft missile similar to Taer-2B missile named Barq-2. Other anti-aircraft missiles were Saqar-1 and 2, which were recently displayed during Russian Defense Minister's visit to Iran and they did not yet have a name in Iran's armed forces collection; therefore, they are more known as Missile 358.
Sejjil anti-ship missile was introduced as the newest member of anti-ship class by Yemen's armed forces. Anti-ship missiles Al-Mandab-1 & 2 were also displayed alongside Rubij anti-ship missile. The anti-ship Sejjil missile, which was unveiled at this military exercise, is also similar to Iran's Qadir missile.
Badr-4 missile; Masjoor-2 underwater mine; Quds-4 cruise; anti-ship ballistic Tankil missile were among other equipment unveiled at this military exercise in the Yemeni capital on the anniversary of Ansar Allah's take-over of the government.