Iraq: Latest Updates on Sinjar area, west of Mosul (Map Update)
Tuesday 15 December 2020 - 10:17
https://english.iswnews.com/?p=16612
ISWNews Analysis Group: Iraqi security forces took control of PKK-affiliated militant bases and police stations in Sanuni and Khana Sur areas in northwestern Sinjar.
Following the agreement between Iraqi government and Iqlim Kurdistan on 9 October over Sinjar area to form a joint committee and evacuate the PKK militants and Hashad Sha'abi forces to retreat up to 5 km from Sinjar area, the latest updates are as follows,
After two brigades of federal police of 2,500 troops were deployed to take position at the border with Syria on 20 November, Iraqi security forces took position on bases of PKK militants and police HQs in Sanuni and Khana Sur, northwest of Sinjar. More than 500 Yazidi fighters have defected PKK militants and will join the local security forces.
While evacuation of the area by PKK militants has been announced several times by Iraqi security sources, there are news that they only left the urban area and took position in Sinjar mountain.
Masrour Barzani, Iqlim Kurdistan Prime Minister, said in this regard: "PKK and its militants have not retreated from Sinjar. They only changed clothes and went to Sinjar mountain for a few hours. They came back later. Their number even increased."
Following the news of the agreement between the Iraqi central government and Iqlim Kurdistna on Sinjar, both sides declared the agreement a great victory. But some Iraqi and non-Iraqi politicians and personalities have also challenged the agreement.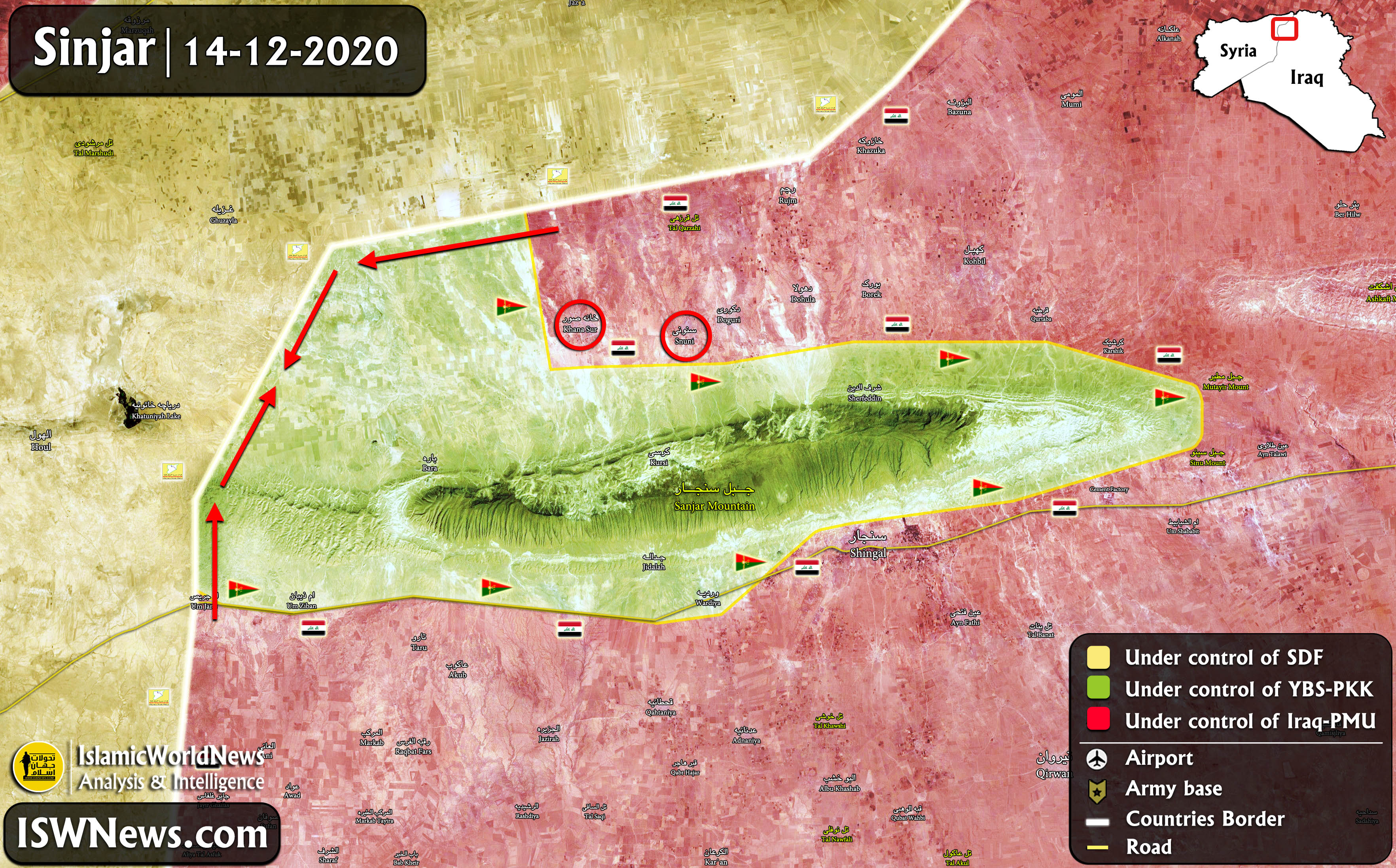 YOUR SUPPORT IS CRITICAL TO KEEP ISWNews ALIVE!
I'd like to thank readers for their confidence and support. Thanks to your support we can continue to perform our duty on reporting the important events in the region. So If you like our contents, please don't feel embarrassed to contribute and help our project, for as little as 1 Dollar. Your contribution, however small, will help ensure our project continuity. Thank you.