Military Knowledge: Mohajer-6 Reconnaissance Combat Drone
Wednesday 31 August 2022 - 18:45
https://english.iswnews.com/?p=24793
Reviewing the newest member of the Mohajer drone family and Iran's most successful export drone; Mohajer-6 reconnaissance combat drone
Mohajer-6 combat reconnaissance drone is a medium-class drone manufactured by the Iran's Ministry of Defense. This drone was first officially unveiled in April 2017 during the visit of the President of Iran to the Defense Achievements Exhibition of the Ministry of Defense.
Mohajer 6, as the newest member of the Mohajer drone family, has been deployed in the Ground and Naval Forces of the Islamic Revolutionary Guard Corps (IRGC), the Islamic Republic of Iran Army Ground Forces, and the FARAJA organization (the Law Enforcement Command of the Islamic Republic of Iran).
Iran started marketing for the sale of Mohajer-6 drone at the MAKS 2019 International Exhibition in Russia.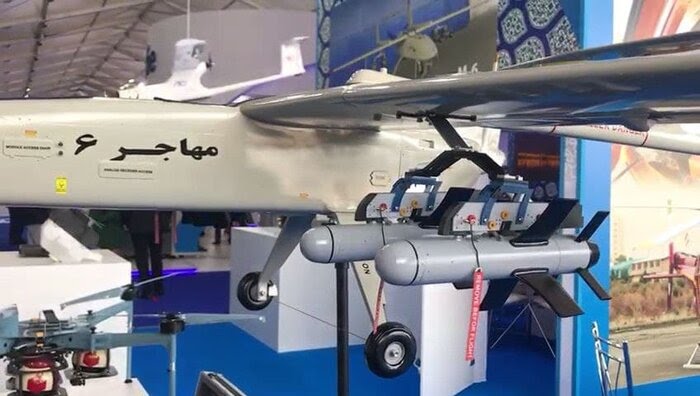 This drone can be considered as Iran's most successful export drone. Mohajer-6 has been exported to Iraq (Hashd al-Shaabi) and Ethiopia. Mohajer-6 and Qaem bomb series have performed very well in Ethiopia.
Read more: From where does Ethiopia procure its drones?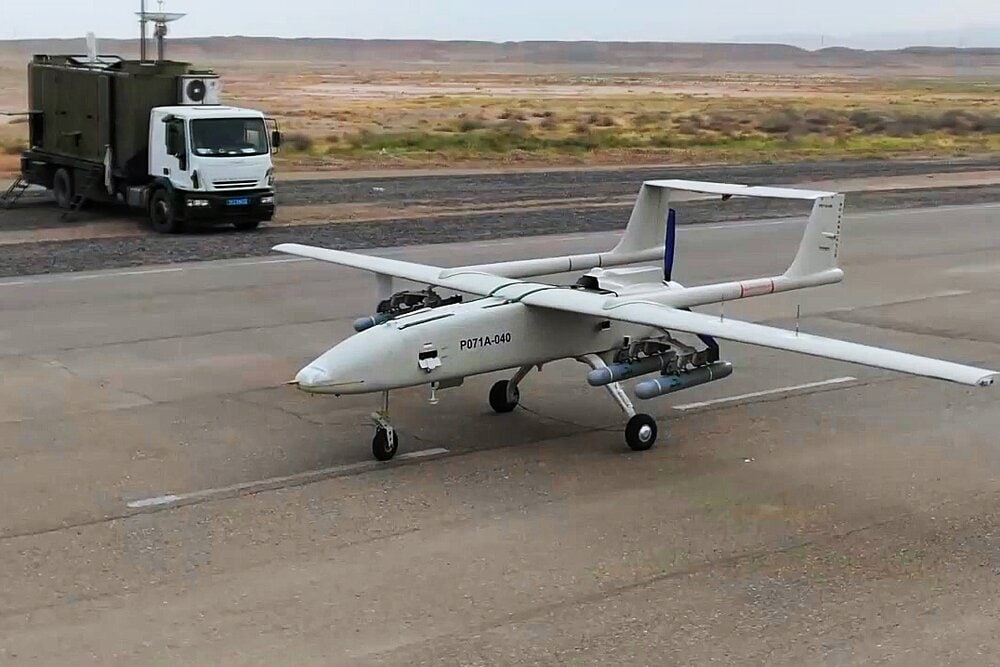 In Venezuela, a replica of Mohajer-6 was first seen, and then a sample of it was produced in this country. There is no information available about the Venezuelan sample.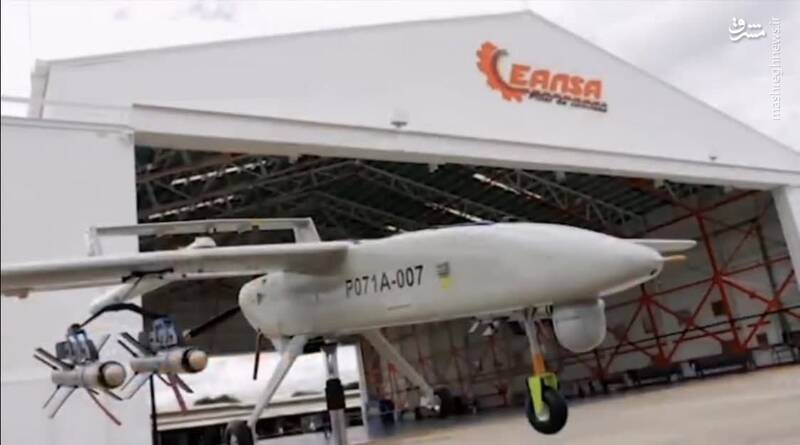 Mohajer-6 drone uses a rectangular body with a wide and sharp tip. Its simple rectangular wings are located on the upper part of the body and its tail has a High Boom Tail configuration. This drone is powered by a 3-blade Rotax 912 piston engine. The Mohajer-6 drone has a forward-looking camera at its tip, which enables continuous monitoring of the drone's path independently of the camera below the drone.
So far, Mohajer-6 with Oghab-4 electro-optical system has been seen in two versions, H and D, both of which are equipped with a day vision camera with 36x optical zoom, a laser rangefinder and a cooling thermal camera.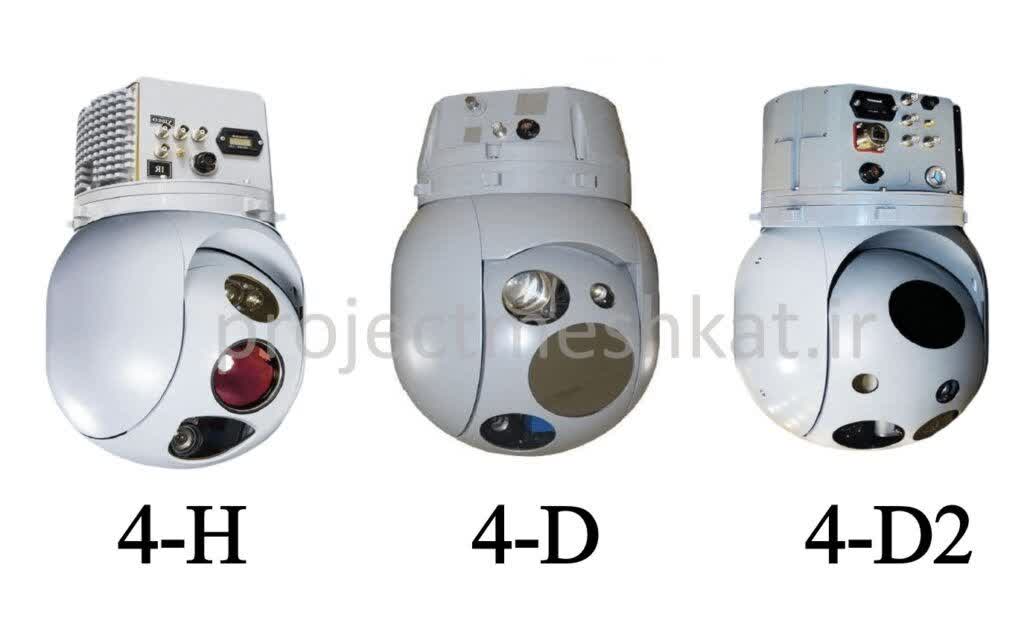 The Oghab 4H electro-optic system has a focal distance of 15 to 300 mm and weighs 18 kg, and the Oghab 4D system has a focal distance of 60 to 120 mm and weighs 19 kg. As a result, the Oghab 4 system in the H version has a better field of vision and resolution.
Also, images of a new camera with 60x zoom for this drone have been released, which shows Iran's progress in making advanced electro-optic systems for drones.
The guidance and control system of Mohajer-6 drone is placed on a truck, which allows it to be moved quickly.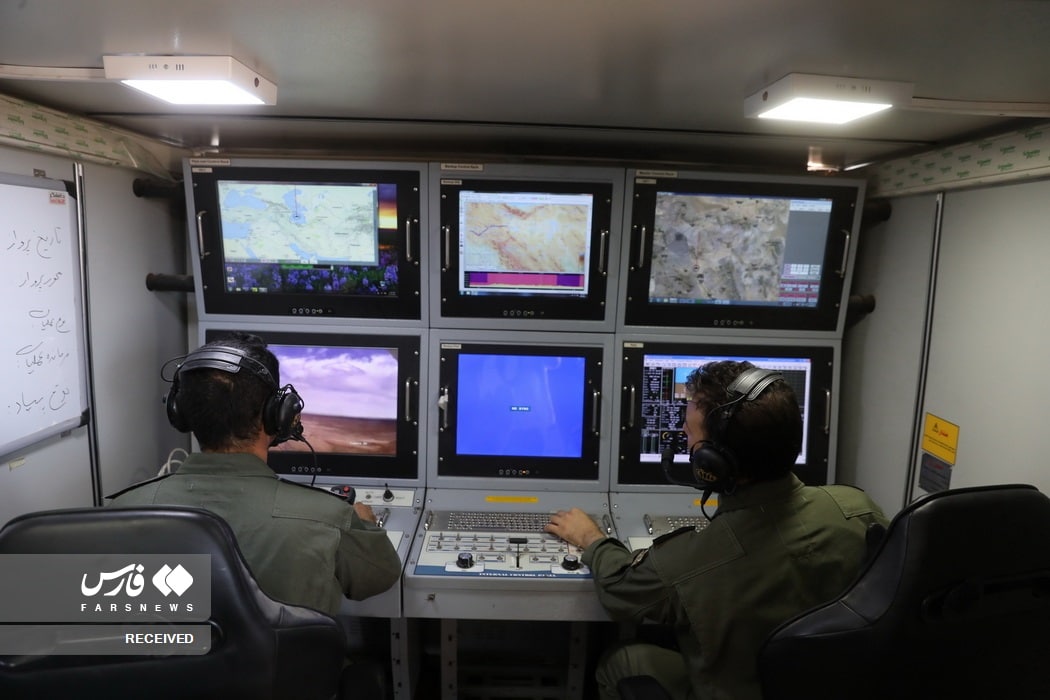 Unfortunately, the weight information of Mohajer-6 has not been officially announced. In the early days of the introduction of this drone, due to the installation of two Qaem-5 bombs, its carrying capacity was stated by the media as 40 kg; But this number was not correct, because the weight of Qaem-5 has not been officially announced. Considering the similarity of dimensions and front wings of Qaem-5 bomb and Sadid-345 bomb, if the weight of its warhead has not changed, due to the presence of fixed rear wings, the weight of Qaem-5 bomb should be slightly heavier than Sadid-345 (34 kg).
However, a poster of Mohajer-6 has been published in the permanent exhibition of the defense achievements of the Islamic Revolutionary Guard Corps, which stated that the weapons payload was 100 kg and the gross weight was 600 kg.
Also, at the ARMY 2022 exhibition, the Ministry of Defense of Iran published a catalog of its defense products, which published the specifications of Mohajer-6 under the title M6, and stated that the weapons payload is 100 kg, and the maximum gross weight is 670 kg.

Therefore, according to the picture of Mohajer-6 with four Qaem-5 bombs, the weight of this bomb should not be more than 25 kg because the total weight of the bombs will be more than 100 kg. Also, a picture of Mohajer-6 drone has been seen in the Army's 313 underground base (Strategic Drone Base 313) loading a Qaem-5 bomb along with a 3-tube launcher for Hydra rockets.
The weight of each Hydra rocket is 6.2 kg, and if we assume that the rocket launcher is 15 kg (due to its small size and lightening), the weight of the whole package should be 33.6 kg. And if we consider the weight of Qaem-5 as 20 kg, it means a weight combination of 53.6 kg for one wing and 107.2 kg for both wings, which means a weight of more than 100 kg. Therefore, the maximum weapons payload for this drone is more than 100 kg, which has not been officially announced yet. So the maximum weapons payload can be considered 150 kg.
Considering that the announced numbers in two official events are different, we can conclude that we are dealing with two types of Mohajer-6 with different powers. In addition, Mohajer-6 has undergone changes in the front and rear landing gear. There may have been some changes to reduce the weight of Mohajer-6. There is also a possibility that the type that has been provided to the army has increased its carrying capacity.
The Mohajer-6 combat reconnaissance drone can carry a wide range of indigenous weapons. This drone has the ability to carry Qaem bombs series, Sadid bombs and missiles family, Almas missile and the ability to carry Hydra rockets, which gives this drone high firepower.
Read more: Military Knowledge: Sadid Smart Bombs and Missiles
Mohajer 6 drone has the ability of carrying Tiam 1400 systems with a weight of 5 kg and Taha 1400 systems with a weight of 6 kg. Tiam 1400 and Taha 1400 are detection and warning and electronic warfare systems. First, the Tiam 1400 radar detection and warning system performs detection and identification of the enemy's radar waves, then the data about the radar is transferred to the Taha 1400 electronic warfare system so that the Taha 1400 acts to disrupt the enemy's radar waves.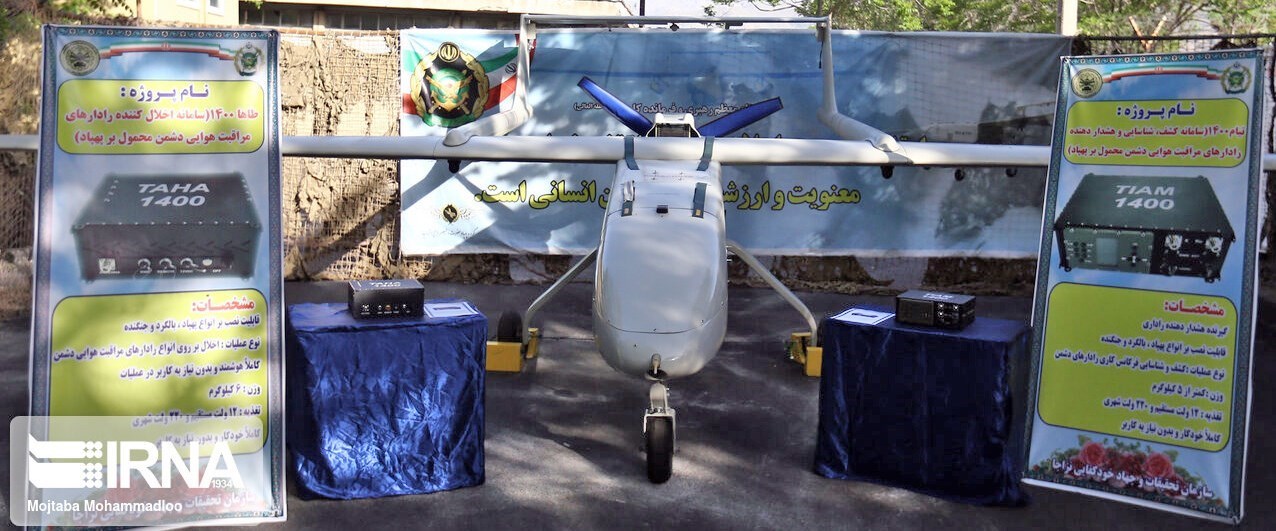 Also, an unknown pod has been spotted on Mohajer-6 drone at Army's Strategic Drone Base 313, whose nature we do not know. This pod was also used in Kaman-12 drone.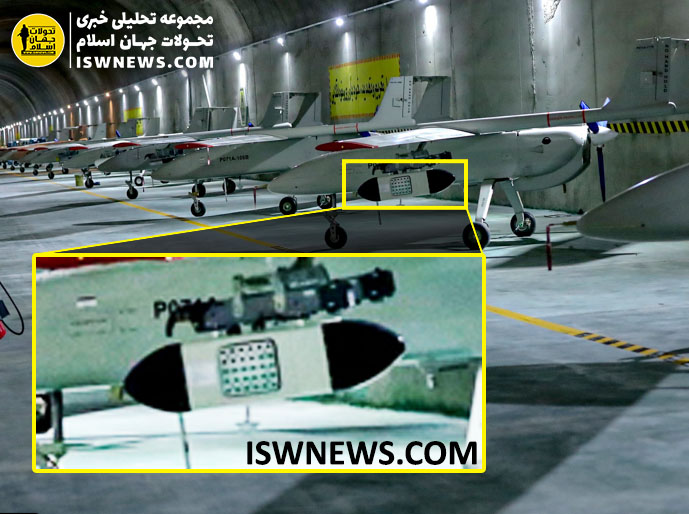 The operational records of the Mohajer-6 drone are many, but only a few footage have been published in the media. As an example, we can refer to the operations against terrorists in the northwestern borders of Iran in July 2019.
The missions assigned to the Mohajar-6 combat reconnaissance drone include aerial reconnaissance and surveillance, destruction of fixed and mobile targets on land and sea and in all weather conditions day and night with high accuracy, monitoring and control of borders and coastal strip, and the possibility of carrying all kinds of Military cargo with the ability to land and take off conventionally from the runway and emergency recovery with a parachute.
Ammunition that Mohajer-6 can carry:
Bombs: 4 Sadid-342 with a range of about 3 km, 2 Sadid-345 with a range of about 3 km, 4 Qaem-1 with a range of about 6 km, 4 Qaem 5 or 9 with a range of about 12 km
Missiles: 2 Sadid-1 with a range of about 7 km (not seen but possible to install), 4 Akhgar missiles with a range of about 30 km (not seen but possible to install), 4 Almas missiles with a range of about 6 km (from In terms of weight, it is possible to carry more, but there is no proper hardpoints), 2 Qaem-114 missiles with a range of 8 km (not seen but it is possible to install)
Rocket: 2x 3-tube rocket launchers for Hydra 70 mm rockets
Electronic warfare systems:
"Tiam 1400" radar wave detection and warning system and "Taha 1400" radar wave jamming system
It is possible to use a combination of above weapons and systems.
Some of the mentioned weapons have not been seen on Mohajer-6. But due to the nature of the weapon design and use on other Iranian drones, it is also mentioned here. Other weapons such as Azarakhsh and some weapons related to helicopters can also be installed, but in order to use these weapons, changes are needed, such as creating a proper fuselage to install heavy weapons on the drone.
Mohajer-6 reconnaissance combat drone specifications:
Length: 7.5 meters
Wingspan: 10 meters
Height: 1.9 meters
Operational range: 2400 km
Service ceiling: 5486 meters
Endurance: 12 hours
Engine: Rotax 912 115 hp
Speed: 200 km/h
Hardpoints: 2, with the possibility of converting to 4
Gross weight: 670 kg
Weapons payload: ~ 150 kg
Origin: Iran
Mohajar-6 combat reconnaissance drone posters in Russian, Chinese, Hebrew, Arabic, Azeri, Kurdish and Persian: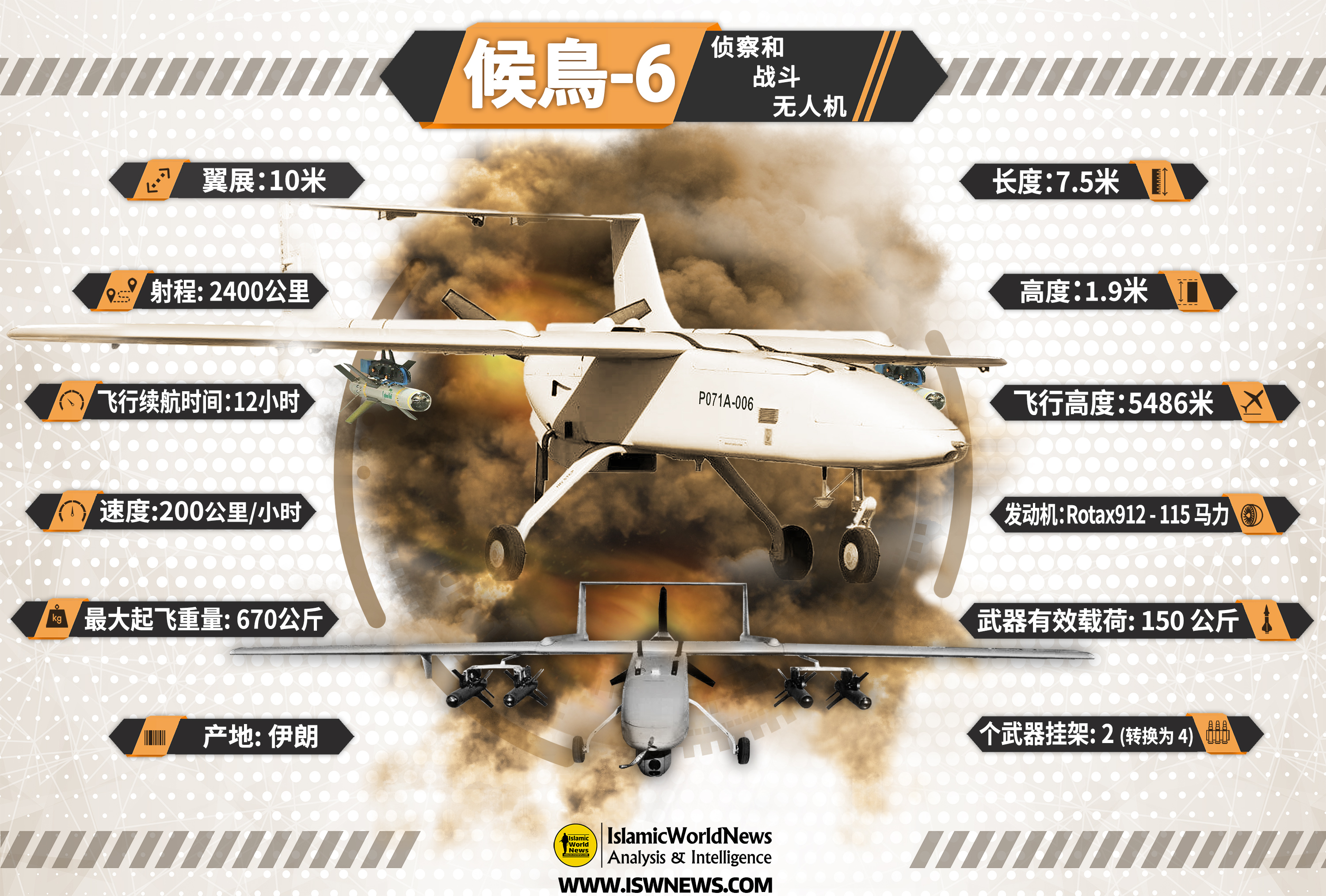 More Images of Mohajer-6 combat reconnaissance drone: