Yemen: Al-Durayhimi, From the Siege to the Victory + Video and Map
Sunday 5 June 2022 - 17:19
https://english.iswnews.com/?p=24070
A complete and true documentary of Ansar Allah's resistance against the heavy attacks of the Saudi coalition on the town of Al-Durayhimi in western Yemen and breaking the siege of this town.
"Al-Durayhimi" is the name of a town and district in Al-Hudaydah province that was completely surrounded by the Saudi coalition during the Saudi coalition operation on the west coast of Yemen in August 2018. The siege was eventually broken by Ansar Allah and popular committees operation in October 2022, forcing Saudi-led coalition forces to retreat from around the town.
Al-Durayhimi residents and fighters during this period (about 800 days) were faced with heavy bombardment and attacks by the Saudi coalition and a shortage of food and medicine, and despite the agreement between Ansar Allah and the resigned government of Hadi in Stockholm, they did not receive any assistance from the United Nations or international organizations.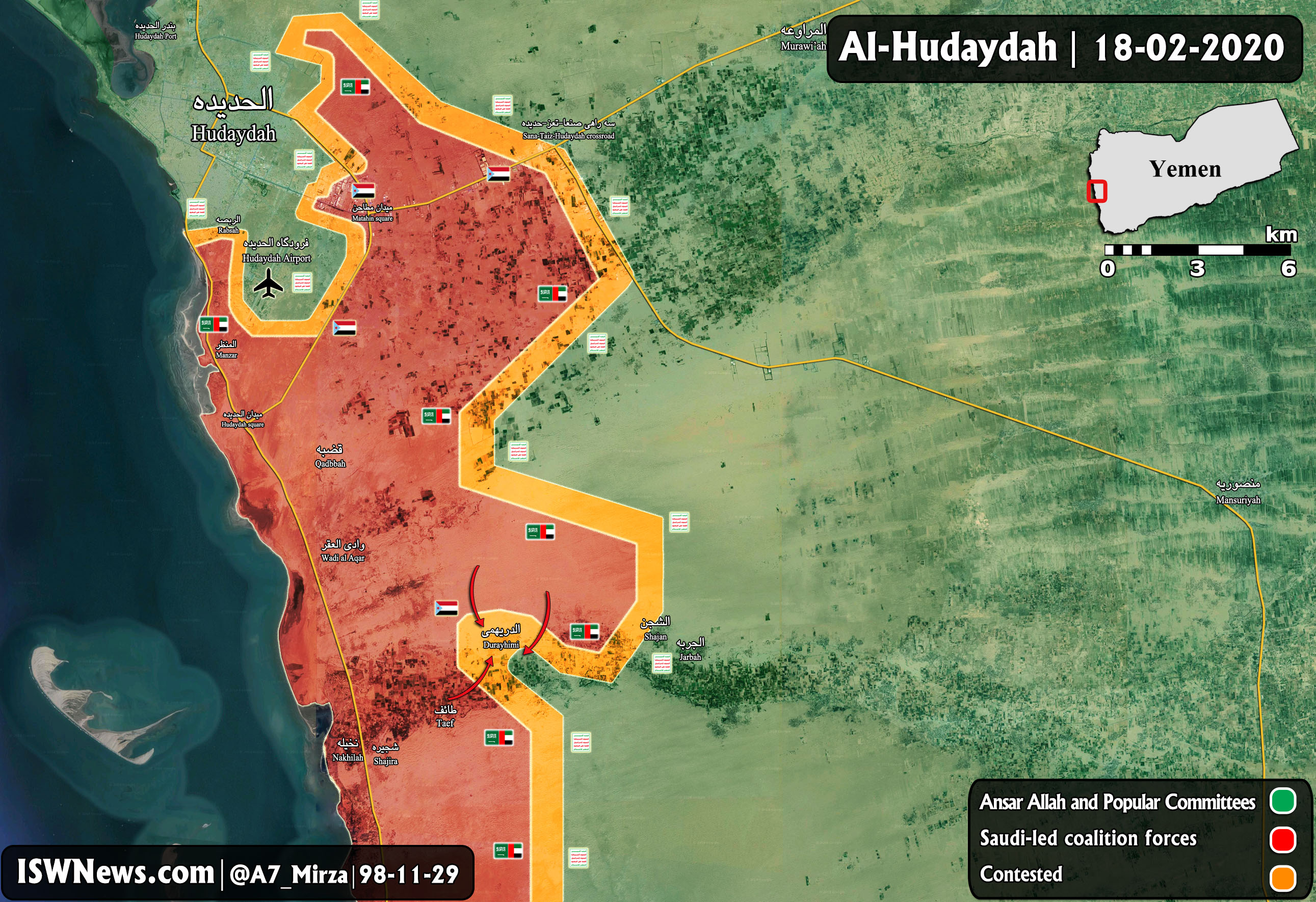 In this regard, the Yemeni Ilam Al-Harbi media recently produced a documentary on al-Durayhimi's situation during the 800 days of resistance, which narrates the problems caused by the siege of the Saudi coalition for the residents of this city and AnsarAllah's surprising and impractical actions to help them.
In this documentary, we see scenes of Ansar Allah fighters fighting Saudi-led forces from al-Amaliqa to Tariq Saleh and repelling their attack on the al-Durayhimi governorate building, the martyrdom of a number of al-Durayhimi children and the elderly due to hunger, disease and injuries from coalition bombing. Also among the spectacular parts of this documentary are sending medicine and medical equipment by UAV, embedding food in rockets and sending it with 2500 rockets into the city, sending food by Mi-171sh helicopter of the Yemeni army, sending rotten food by the United Nations, rejecting the offer Representatives of the Red Cross on the transfer of civilians to the refugee camp in al-Khukhah by the people of al-Durayhimi, etc.
Read more:
Saudi coalition Withdraws From the City of Al-Hudaydah and the West Coast of Yemen
Ansar Allah defeated Tariq Saleh operation in al-Durayhimi (Map Update)